Youth Forum & Expo:
Food, Farming and Active Living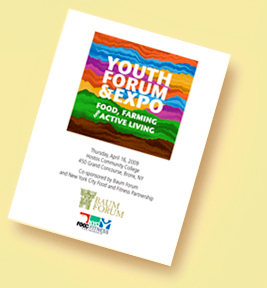 April 16, 2009

Download Complete Program (1.5 MB pdf)

Conference Agenda
EXPO
9:00 - 3:45

A vast array of exhibits presented by organizations and businesses with offerings that are educational, thought provoking and related to career paths in food, farming and active living. Find an Expo Ambassador at any time for a guided tour geared to your own interests.


CONFERENCE SESSIONS
10:30
Youth-Run Farm Stands: Bringing Fresh and Local to NYC Neighborhoods
Brooklyn Rescue Mission and CENYC Youthmarket
Fresh & Raw: Knife Skills & 'Pico de Gallo' Salsa
The student chefs of Franklin K. Lane High School and Chef Instructor David Espinosa
My Community, My Food: A Look at Income, Health, and Food Accessibility
EATWISE, CookShop for Teens from the Food Bank For New York City
Putting the Active Back into Proactive: a Discussion and Demonstrations with the Pro's
Shanon Morris R.D., Moderator; Mary Gillis, Anything But the Gym; Tim Haft, Punk Rope; Syncere Martinez, Harlem Crossfit
City Gym Boys Boot Camp
Charles LaSalle, Founder & Presidents, City Gym Boys
Changing Your School's Food: High School & College Experiences
Chidi Duke and Marcia Foster, students, and Irene Shen, Partnership Director, BASE High School; Shane Crary-Ross, Student, NYU Silver School of Social Work; Annie Myers, Student, NYU Gallatin School of Individualized Study; Hannah Kullberg, Student, Vassar College
Conserve Natural Resources!
Casey Sullivan, Advisor; Mary Diaz, President; Cristal Espejo, Vice President; Peter Dang, Omaira Tejada, Jennifer Colon, Narolyn Moya, Leandro Pena, Thao Nguyen; Students for Equality and Action, Dewitt Clinton High School
Becoming a Farmer
Laura Kate Morris, Farmer-Activist; Casey Knapff, Dairy Farmer; Kennon Kay, Field Manager, Queens County Farm Museum
Down to Earth: Local Youth Take Grassroots Global
Leanette Anzules, Gabriella Cortez, Melissa Ortiz, and Pitor Teczynski, Youth Cabinet; Kyeesha Fountain, Victor Davila, and Misra Walker of The Point CDC; and Aleksandra Radyuk, Global Youth Action Network / UN CSD Youth Major Group
LUNCHEON and DIALOGUE WITH THE CHEFS
12:00 - 1:15
CONFERENCE SESSIONS
1:15
Composting: Changing Our City From the Ground Up
Deborah Greig, Urban Agriculture Coordinator; Jannatul Rahman; Sharney Procope, Urban Agriculture Interns, East NY Farms!
So, You Want to Start Your Own Business?
Pam and JC Chmiel, co-founders of Teen Entrepreneur Boot Camp, Moderators; Charles LaSalle, Founder & President, City Gym Boys; Erin Barnes, Co-founder, ioby.org
I Challenge Myself Boot Camp
Jeffery Arias; Rachel Garcia; Joes Ramos; Diogimany Torres, I Challenge Myself Cycling Smarts Students
I Want an Internship
Lloyd Nadal, Program Director, CANFIT; Greg Gale, Program Director, Lennie Johnson Richardson, Kira Rogers, Youth Leaders, The Food Project
The Taste Challenge: Cooking with Flavor
The Children's Aid Society Culinary Arts Team
Centering Your Mind, Body and Spirit Through Yoga
Emily Huber, Certified Yoga Teacher, Seeing Through the Hand Studio
Transforming Local Food Systems: Starting at the Corner Bodega
Serne Thompson, SCO Adolescent ACTION Advocates & Health Equity Project; Youth TBD, Health Equity Project; Patricia Llanos and Lisandra Lamboy, Healthy Bodegas Initiative
Rhythm & Movement: Dance, Step and Cheer
Christopher Columbus High School Icy Blue Steppers, Cheerleaders and Dancers
Build Simple Green Spots for Skateboarding, Dance, Music, Art and Food
Billy Rohan, Tyriq Halloway, Andre, and Paula Hewitt, Open Road


SPECIAL PROGRAMS
2:45 - 3:30
Urban Youth Fed and Fit: Lessons from the Revolution
Raymond Figueroa, Jr., Youth Community Organizer, and the young people of ASPIRA Y.E.S.!
Teen Iron Chef Invitational: The Final Battle
FamilyCook Productions & HealthCorps


CLOSING PANEL and CELEBRATION
3:45-5:00
Building a Sustainable, Just and Healthy Future for Yourself and the Community
Introduction: Kate Mackenzie, New York City Food and Fitness Partnership
Moderator: Hilary Baum, Baum Forum
Presenters: Josh Viertel, Slow Food USA; Donya Williams, Healthy Bodegas Initiative; Tamia Moore and Youth, Hunter Science High School; M-1, Dead Prez

Performance
Introduction: Omawale Adewale, Grassroots Artist Movement (G. A. M. E.)
Performers: ReadNex Poetry Squad


> Return to Top