Schools, Food and Gardening: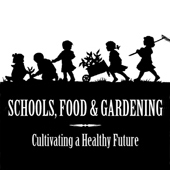 Cultivating a Healthy Future

April 21, 2007

Collaborators
Apple & Eve LLC (Sponsor)
PO Box K
Roslyn, NY 11576
Phone: (800) 969-8018
Fax: (516) 621-2164
Email: info@appleandeve.com
Web: www.appleandeve.com
Founded in 1975 and based in Port Washington, NY, Apple & Eve is one of the largest independently owned juice companies in the United States. The company produces a wide variety of quality 100% juices that are fortified with Calcium and Vitamin C, in a range of package types, including juice boxes and single-serve PET juice bottles.

ARAMARK/ARMARK School Support Services (Sponsor)
1101 Market St
Philadelphia, PA 19107
Phone: (800) ARAMARK
Web: www.aramarkschoolfood.com/about.htm
ARAMARK School Support Services (SSS) provides foodservice management to over 420 school districts representing more than 4,000 K-12 public and private schools throughout the United States. ARAMARK SSS helps to improve the overall educational and work experience of students, faculty, and staff by providing nutrition awareness, increasing student meal participation, improving services, boosting student satisfaction, and achieving cost reductions.

Baum Forum
5454 Palisade Ave
Bronx NY 10471
Phone: (718) 884-5716
Fax: (718) 884-2724
Email: hilarybaum@baumforum.org
Web: www.baumforum.org
The Baum Forum facilitates an on-going dialogue on food and farming issues, focusing on the preservation of a healthy, diversified food system. Through a program of conferences and seminars, the Forum offers a variety of perspectives to a broad audience of the food and agriculture community, educators, and concerned citizens.

Breezy Hill Orchard and Cider Mill
828 Centre Rd.
Staatsburg, NY 12580
Phone: (845) 266-3979
Fax: (845) 266-5910
Email: ciderdraft@aol.com
Breezy Hill Orchard and Cider Mill is proud to be one of the founding members of Greenmarket in NYC where the orchard offers many varieties of apples, baked goods, and artisanal cider. The farm has always been dedicated to providing healthy, locally grown food to as many people as possible and the orchard's recent activities include providing a number of schools in NY with weekly shipments of preservative free, no added sugar farm-crafted cider.

Center for Ecoliteracy
2528 San Pablo Avenue
Berkeley, CA 94702
Email: info@ecoliteracy.org
Web: www.ecoliteracy.org
The Center for Ecoliteracy was founded in 1995 by Fritjof Capra, Peter Buckley, and Zenobia Barlow. It is dedicated to education for sustainable living. The Center's Rethinking School Lunch (RSL) program uses a systems approach to address the crisis in childhood obesity, provide nutrition education, and teach ecological knowledge.

Citizens for NYC
305 7th Avenue, 15th Floor
New York, NY 10001-6008
Phone: (212) 989-0909
Fax: (212) 989-0983
Email: info@citizensnyc.org
Web: www.citizensnyc.org
Citizens for NYC, a nonprofit organization founded in 1975 as the Citizens Committee for New York City, mobilizes New Yorkers to improve their neighborhoods in the areas of Urban Environment and Beautification, Safety, Poverty, Neighborhood Diversity, Youth-Led Community Service and Youth Entrepreneurship. The organization helps New Yorkers build strong neighborhood volunteer groups that solve local problems, providing small grants, workshops, self-help information and assistance to more than 12,000 grassroots volunteer groups.

Cloud Institute of Sustainability Education
307 Seventh Avenue, Suite #1201
New York, NY 10001
Phone: (212) 645-9930
Fax: (212) 645-9931
Email: Admin@sustainabilityed.org
Web: www.sustainabilityed.org
The mission of the Cloud Institute is to ensure the viability of sustainable communities by leveraging changes in K-12 school systems to prepare young people for the shift toward a sustainable future. To this end, the Cloud Institute works with partners to develop and deliver proven, innovative educational products and programs.

Coalition for Better School Food
487 East Main Street #231
Mt. Kisco, NY 10549
Email: betterschoolfood@mindspring.com
Web: www.betterschoolfood.com
A non-profit organization in Westchester County, NY, dedicated to supporting the growing number of parents, health professionals, and educators who are trying to raise awareness in their communities and schools about the importance of good nutrition.

Council on the Environment of New York City (CENYC)
51 Chambers Street, Room 228
New York, NY 10007
Phone: (212) 788-7900
Fax: (212) 788-7913
Email: conyc@cenyc.org
Web: www.cenyc.org
The Council on the Environment of New York City (CENYC) is a privately funded citizens' organization in the Office of the Mayor. CENYC promotes environmental awareness and solutions to environmental problems. The programs, Open Space Greening; Greenmarket & New Farmer Development Project; Environmental Education and others make positive and discernible differences in the lives and communities of New Yorkers.

EECO Farm
P.O. Box 2550
55 Long Lane
East Hampton, NY 11937
Phone: (631) 324-5523
Web: www.eecofarm.org
EECO Farm is a 42-acre community farm in the heart of East Hampton, which follows organic practices and sustainable agricultural methods. The Farm is a not-for-profit, educational organization, and provides our community with an Outdoor Classroom for hands-on learning about food and the environment. Local schools and community groups participate in farming and gardening projects, growing for their own consumption or donating produce to help neighbors in need.

FamilyCook Productions
330 East 43rd Street Ste. 704
New York, NY 10017
Phone: (212) 867-3929
Email: Lynn@FamilyCookProductions.com
Web: www.FamilyCookProductions.com
FamilyCook Productions brings families and communities together around delicious fresh food while positively impacting their health and wellbeing. The company embeds its multiple programs in communities through sound curricula and the FamilyCook Certification Training. These programs are increasingly being sought out by public health agencies (including the NYC DOH/MH) as an effective means to family-wide behavior change to combat the obesity and diet-related diseases. Programs also serve the child welfare community as tools for strengthening families. Currently over 60 FCP programs are operating in New York State, Maryland, DC and North Dakota.

FarmHands-CityHands/Vergant, Inc. and Biodiesel Babes
293 Central Park West, #3E
New York, NY 10024
Phone: (212) 873-8158
Fax: (212) 873-8157
Email: wendy@vergant.com, wendy@biodieselbabes.com
Web: www.farmhandscityhands.com, www.vergant.com, www.biodieselbabes.com
FarmHands-CityHands is an organization dedicated to keeping local agriculture alive and linking farm and city for the social, cultural, economic and environmental enrichment of both. For more than two decades, the program has operated day and overnight FarmDay field trips, in-city tastings and tours, and food and farming education programs. FarmHands-CityHands is a program of Vergant, Inc., developers of pro-social programs, products and promotions and home to The Senses Bureau: Educating and Celebrating the Senses, The Renewables and Biodiesel Babes.

FoodChange (Sponsor)
39 Broadway, 10th Floor
New York, NY 10006
Phone: (212) 894-8094
Fax: (212) 616-4990
Web: www.foodchange.org
Founded in 1980, FoodChange provides emergency meals to New York City's hungry children and adults. Through education and direct service, the organization increases low-income people's knowledge of nutrition and healthy foods and tries to make wholesome eating a daily reality for all New Yorkers. And, to enhance people's ability to afford healthy foods, FoodChange helps them identify, capture and maximize all the government benefits to which they are entitled. FoodChange is a primary partner in the SchoolFood Plus Iniative and home of the CookShop® Program.

Food Systems Solutions LLC
19 Cumming Street, Suite 2D
New York, NY 10034
Phone: (917) 628-8911
Email: ChefKate@nyc.rr.com
Food Systems Solutions LLC is a consultancy specializing in integrating operational changes, school-based programming, and public-private partnerships to support the healthful transformation of school meals programs. The company's president, Kate Adamick, JD, is the former director of New York City's SchoolFood Plus Initiative, and her clients include the Berkeley Unified School District in California; Katonah-Lewisboro, Yorktown and Port Washington School Districts in New York; the Manhattan Country School; the Alexander Dawson School in Las Vegas; and The Cherokee Nation in Oklahoma.

Great Performances/Katchkie Farm (Sponsor)
287 Spring Street
New York, NY 10013
Phone: (212) 727.2424
Fax: (212) 727.2820
Email: info@greatperformances.com
Web: www.greatperformances.com
Great Performances is a New York-based catering firm known industry wide for passion and devotion to the arts, for creative culinary design and providing outstanding service for over 26 years. The company takes pride in attentiveness to details, responsiveness to clients, and customized menus ranging from the delicate to the robust. Its level of fine, personalized service is characteristic of a "boutique" caterer, with expertise in event planning and management. Katchkie Farm is the company's own organic farm in Columbia County.

Greenleaf Gardens Inc.
968 Post Road
Scarsdale, NY 10583
Phone: (914) 886-3559
Email: GreenleafGardens@Hotmail.com
Web: www.greenleafgardens.org
Greenleaf Gardens Inc. educates and engages communities in environmental stewardship by providing education in the art of regenerative, local, small scale food production. Our school garden programs provide garden educators and garden-based curriculum materials and lesson plans to assist the teachers with the integration of gardening and sustainability concepts into their classroom lessons. Through the study of small scale local food production students observe the opportunities for creating a sustainable future.

Green Map System
220A East 4th St.
New York, NY 10009
Phone: (212) 674-1631
Email: apple@greenmap.org
Web: GreenMap.org (Global), GreenAppleMap.org (NYC)
Green Map System energizes communities worldwide to chart a sustainable future – for us all! Working collaboratively since 1995, we have empowered a diverse movement of mapmaking teams charting local natural, social and cultural resources. Our global resources strengthen local sustainability networks and expand the demand for healthy, green choices in over 50 countries. New York schools, youth and community groups are welcome to participate through our Green Apple program. What are your ideas for a NYC K-16 Green Schools Green Map?

GreenThumb
49 Chambers Street Room 1020
New York, New York 10007
Phone: (212) 788-8070
Fax: (212) 788-8052
Email: glenis.holder@parks.nyc.gov
Web: www.greenthumbnyc.org
Established in 1978, GreenThumb remains the nation's largest urban gardening program, assisting over 600 gardens and nearly 20,000 garden members throughout New York City. The organization aims to foster civic participation and encourage neighborhood revitalization while preserving open space. GreenThumb was initiated in response to the city's financial crisis of the 1970's, which resulted in the abandonment of a tremendous amount of public and private land. Residents of these devastated communities transformed these unattractive and unsafe spaces into green havens.

The Growing Connection
FAO/UN
2175 K Street NW
Suite 500
Washington D.C. 20037
Phone: (202) 653-2438
Fax: (202) 653-5760
Email: info@thegrowingconnection.org
Web: thegrowingconnection.org
The Growing Connection (TGC) is a grassroots project developed by the Food and Agriculture Organization of the United Nations (FAO) and the American Horticultural Society. The project links people and cultures in a revolutionary campaign that introduces low-cost water efficient and sustainable food growing innovations hand in hand with wireless IT connectivity. School gardening programs and community gardens in the U.S., Ghana, Mexico and Nicaragua grow vegetables in an EarthBox system that becomes a common growing platform for all participants, providing a sound educational foundation, and offering hundreds of families, both in America and abroad, a concrete opportunity to earn income and climb out of desperation.

Hawthorne Valley Farm
327 Rt. 21C
Ghent, NY 12075
Phone: (518) 672-7500
Web: www.hawthornevalleyfarm.org
Hawthorne Valley Farm is a 400-acre, diversified Biodynamic® farm nestled in the hills of the Taconic Range in Columbia County, New York, and is part of the Hawthorne Valley Association (the Association), a not-for-profit organization dedicated to agriculture, education, and the arts. Other branches of the Association include a kindergarten through twelfth grade Waldorf School, the Adonis Press, and the Visiting Students Program, which brings children from schools throughout the Northeast to spend a week on the Farm.

Jumping Jacks With Jill
Email: jumpingjackswithjill@gmail.com
Web: www.sunsetwest.net/jillsite.html
Jumping Jacks with Jill is an interactive kids' fitness show that is redefining how kids learn about health. Using games, songs, theatrics, and demonstrations, the show teaches kids of all fitness levels about nutrition and exercise through movement. The show opened in Central Park in May of 2006 after three years of development by Registered Dietitian and musician Jill Pakulski. Since then, Jumping Jill 's transformational message has been spread via many media outlets, conferences and events, the new fit WIC program in New York City, and on DVD with the launch of the Fitness Videos for Kids series.

Karp Resources
52875 Main Road
PO Box 515
Southold, NY 11971
Phone: (631) 765-9406
Fax: (631) 765-5225
Email: info@karpresources.com
Web: www.karpresources.com
Karp Resources is a food business consultancy that researches, designs, implements and project manages sustainable food programs and businesses. Karp Resources' clients include entrepreneurs, social service organizations, farms and farm-based businesses, food and nutrition advocacy organizations, agricultural economic development groups, and government agencies. Current projects include developing a three-year local food procurement plan for NYC's Office of SchoolFood; conducting the second phase of research on the development of a Wholesale Farmers' Market in NYC; and evaluating the SchoolFood Plus Initiative.

Keeper Springs (Sponsor)
Web: www.keepersprings.com
A bottled water company that benefits the environment by donating its profits to clean water organizations. Named in honor of the Waterkeeper Alliance, an international network of groups that protect America's waterways.

Liquori & Associates, LLC
305 East 63rd Street, 10A
New York, NY 10021
Phone: (212) 888-4245
Fax: (212) 888-4246
Email: tliquori@nyc.rr.com
Liquori & Associates, LLC is a consulting practice dedicated to transforming institutional foodservice operations to become models of food education - both in procurement and cooking practices. The practice focuses on assessment & strategic planning, change in food purchasing protocol, and workforce development. L&A assembles teams of professionals to work with foundations, schools and school systems, health programs, local, national and international public agencies, and community-based organizations.

Lower Eastside Girls Club of New York
56 E. 1st St.
New York, NY 10003
Phone: (212) 982-1633
Email: gogirl@girlsclub.org
Web: www.girlsclub.org
The Lower Eastside Girls Club is dedicated to providing a place where girls 8-18 can grow, learn, have fun, and develop confidence in themselves and their ability to make a difference in the world. By delivering strong and innovative arts, athletic, cultural, life-skills and career oriented programming, we provide girls with the vision to plan - and the tools to build - their future.

Manhattan Country School
7 East 96th Street
New York, NY 10128
Phone: (212) 348-0952
Fax: (212) 348-1621
Email: mcs@manhattancountryschool.org
Web: www.manhattancountryschool.org
Manhattan Country School is a private coeducational PreK-8 school with its main location in Manhattan and a farm in Roxbury, New York. Founded in 1966, it is distinctive because of its multicultural and progressive educational philosophy, the diversity of its student body, its sliding scale tuition system, its incorporation of farm experiences, and the activism of its students.

National Gardening Association
1100 Dorset Street
South Burlington, VT 05403
Phone: (800) 538-7476
Web: www.kidsgardening.com
The National Gardening Association mission is to promote home, school, and community gardening as a means to renew and sustain the essential connections between people, plants, and the environment.

New Territories Research
42 W. 130th Street, #1
New York, NY 10037
Phone: (347) 744-9693
Email: contact@ntr01.com
Web: www.ntr01.com
New Territories is a consultancy dedicated to helping organizations make the best possible decisions throughout the lifecycle of project, product or service. Principals Tom and Christina Grace bridge high tech and sustainable food industry experience to provide a diverse set of marketing, research and project management services to industry and public interest clients.

The New York Botanical Garden
200th Street and Kazimiroff Boulevard
Bronx, NY 10458-5126
Phone: (718) 817-8700
Web: www.nybg.org
Founded in 1891, the Garden is one of the world's great collections of plants, the region's leading educational center for gardening and horticulture, and an international center for plant research. The Garden is alive with opportunities for discovery, from an "ecotour" of the world in the Enid A. Haupt Conservatory to an innovative indoor/outdoor science museum for kids to 50 exquisite gardens and plant collections, all on a 250-acre National Historic Landmark site in New York City's Bronx borough.

New York City Community Gardens Coalition
c/o Neighborhood Preservation Center
232 East 11th Street
New York, New York 10003
Phone: (212) 928-8648
Fax: (212) 690-7020
Email: nyccgcinfo@yahoo.com
Web: www.nyccgc.org
The New York City Community Gardens Coalition is a non-profit organization, incorporated in 1998, which promotes the creation and preservation of the community gardens and community developed open spaces throughout the 5 boroughs of New York City.

New York Coalition for Healthy School Food
P.O. Box 737
Mamaroneck, NY 10543
Phone: (607) 272-1154
Email: info@healthylunches.org
Web: www.healthylunches.org
The New York Coalition for Healthy School Food (NYCHSF) is a statewide nonprofit that works to improve the health and well-being of New York's students by advocating for healthy plant-based foods, farm to school programs, the elimination of unhealthy competitive foods in all areas of the school (not just the cafeteria), comprehensive nutrition policy, and education to create food- and health-literate students.

NYC Fair Trade Coalition (Sponsor)
Web: www.fairtradenyc.org
The NYC Fair Trade Coalition encourages and supports organizations and institutions to switch to Fair Trade products, supports local businesses that sell Fair Trade products, and hosts public events to raise awareness of Fair Trade products. The Coalition includes Congregation B'nai Jeshurun, United Food and Commercial Workers (Local 1500) , Sierra Club (New York City Group), Park Slope Food Coop, Inc., American Jewish World Service, United Students for Fair Trade, NYCISPES, NYC People's Referendum on Free Trade, St. Andrews the Apostle Church in Brooklyn, Fair Trade Resource Network, and Interrupcion.

New York Restoration Project (NYPL)
254 West 31st Street,
10th Floor
New York, NY 10001
Phone: (212) 333-2552
Fax: (212) 333-3886
Email: restore@nyrp.org
Web: www.nyrp.org
Renowned entertainer Bette Midler founded the nonprofit New York Restoration Project (NYRP) in 1995 with the belief that clean and green neighborhoods are fundamental to the quality of life and that every community in New York City deserves an oasis of natural beauty. Modeled on the Central Park Conservancy and other successful public-private partnerships, NYRP partners with individuals, community-based groups, and public agencies to reclaim, restore, and develop under-resourced parks, community gardens, and open space in New York City, primarily in economically disadvantaged neighborhoods.

New York State Healthy Eating and Physical Activity Alliance (NYSHEPA)
41 Joan Drive
Chappaqua, NY 10514
Phone: (914) 244-6288
Email: info@nyshepa.org
Web: www.nyshepa.org
NYSHEPA is a statewide alliance dedicated to improving policies and practices that promote healthy eating and physical activity. With over 60 member organizations from around NYS, NYSHEPA promotes organizational policies, regulations and environmental changes that support healthy eating and fitness.

NYC Department of Education, SchoolFood (Sponsor)
44-36 Vernon Boulevard
Long Island City, NY 11101
Phone: (718) 707-4300
Web: www.opt-osfns.org
NYC Department of Education's SchoolFood division is the largest school food service provider in the United States providing over 860,000 meals per day to students in over 1450 locations. In partnership with FoodChange, SchoolFood's SchoolFood Plus department is responsible for overseeing a multi-agency initiative to promote the consumption of plant-based foods among elementary school children, improve eating habits and academic performance, as well as strengthen the bond between New York State agriculture and New York City public schools.

NOFA NJ - Northeast Organic Farming Association of New Jersey
60 S. Main Street
P.O. Box 886
Pennington, NJ 08534
Phone: (609) 737-6848
Fax: (609) 737-2366
Email: nofainfo@nofanj.org
Web: www.nofanj.org
We are a unique collaboration among stakeholders in our food system. Our members include farmers, consumers, retailers, processors, educators and researchers. NOFA-NJ serves the NJ/PA region as a catalyst in the development of a sustainable organic agricultural system; educates diverse audiences about the significance and meaning of organic practices for food and the environment; helps organic and progressive conventional farmers build and maintain sustainable operations; and offers USDA-accredited third-party certification to organic farms and processors.

NOFA NY – Northeast Organic Farming Association of New York
P.O. Box 880
Cobleskill, NY 12043
Phone: (607) 652-6632
Fax: (607) 652-2290
Email: office@nofany.org
Web: www.nofany.org
NOFA-NY is an organization of consumers, gardeners, and farmers creating a sustainable regional food system that is ecologically sound and economically viable. Through demonstration and education, we promote land stewardship, organic food production, and local marketing.

Organic Valley Family of Farms and Organic Prairie (Sponsor)
One Organic Way
LaFarge, WI 54639
Phone: (888) 444-6455
Fax: (608) 625-3025
Email: organic@organicvalley.coop
Web: www.organicvalley.coop and www.organicprairie.com
Independent and farmer-owned, Organic Valley Family of Farms is America's largest cooperative of organic farmers and is one of the nation's leading organic brands. Organized in 1988, it represents 917 farmers in 27 states and one Canadian province. Focused on its founding mission of keeping small and mid-sized farmers farming, Organic Valley produces over 200 organic foods, including organic milk, soy, cheese, butter, spreads, creams, eggs, produce and juice, which are sold in supermarkets, natural foods stores and food cooperatives nationwide. The farmers who produce Organic Valley also produce a full range of organic meats under the Organic Prairie label.

Panela Productions - Mixing it Up!
Phone: (212) 545-4159
Email: info@panelaproductions.com
Web: www.panelaproductions.com
From the Portuguese word meaning "stewing pot," Panela celebrates community and culture through wholesome organic food. We've created a culinary educational model for people interested in exploring healthier lifestyle options through hands-on food education. Panela offers cooking classes, lectures, and workshops in schools, camps, small organizations, and residences, with the goal of helping youth and adults develop an authentic relationship with their food.

Pride of New York, NYS Department of Agriculture (Sponsor)
10B Airline Drive
Albany, NY 12235
Phone: (800) 554-4501
Email: prideofny@agmkt.state.ny.us
Web: www.prideofny.com
The Pride of New York Program was developed to promote and support the sale of agricultural products grown and food products processed within New York State. The Program's growing membership now includes farmers and processors, retailers, distributors, restaurants and related culinary and support associations ­ all working together to bring you wholesome, quality New York State products.

Rainbeau Ridge
49 David's Way
Bedford Hills, NY 10507
Phone: (914) 234-2197
Fax: (914) 234-0252
Email: info@rainbeauridge.com
Tucked into a quiet corner of Bedford Hills off a dirt road, the Schwartz's are building a dream. Created in 2002 by Lisa and her husband Mark with an appreciation of and a respect for the natural resources available in their own backyard, the Schwartz's are focused on recapturing the gentleman's farm that once encompassed their 35 acres. Rainbeau Ridge includes a small scale egg operation, organic vegetable gardens, a restored orchard and a cheese house, which is home to Lisa's fine goat farmstead cheese.

Slow Food NYC/Slow Food U.S.A.
20 Jay Street, Suite 313
Brooklyn, NY 11201
Phone: (718) 260-8000
Fax: (718) 260-8068
Email: info@slowfoodusa.org
Web: www.slowfoodusa.org
Slow Food USA seeks to catalyze a broad cultural shift away from the destructive effects of an industrial food system and fast life; toward the regenerative cultural, social and economic benefits of a sustainable food system, regional food traditions, the pleasures of the table, and a slower and more harmonious rhythm of life. Slow Food in Schools program offers implementation tools and examples.

Stone Barns Center for Food and Agriculture
630 Bedford Road
Pocantico Hills, NY 10691
Phone: (914) 366-6200
Fax: (914) 366-7905
Email: info@stonebarnscenter.org
Web: www.stonebarnscenter.org
Stone Barns Center for Food and Agriculture is a not-for-profit farm and education center that offers a unique experience: an opportunity to learn about agriculture firsthand on a working farm and build connections to the food we eat. Stone Barns' mission is to celebrate, teach and advance community-based food production and enjoyment. Programs include field trip opportunities for students, professional development for teachers, summer camp, after school programs, and an array of public programs focusing on farming, food and sustainability.

Sustainable Table
215 Lexington Ave, Suite 1001
New York, NY 10016
Phone: (212) 991-1930
Fax: (212) 726-9160
Email: info@sustainabletable.org
Web: www.sustainabletable.org
Sustainable Table celebrates the sustainable food movement, educates consumers on food-related issues, and works to build community through food. The program is home to the Eat Well Guide, an online directory of sustainable products in the U.S. and Canada, and the critically-acclaimed, award-winning Meatrix movies - The Meatrix, The Meatrix II: Revolting and The Meatrix II1⁄2.

Teachers College Columbia University (Sponsor)
Program in Nutrition
525 W. 120th Street, Box 137
New York, NY 10027-6696
Program in Nutrition
Phone: (212) 678-3950
Email: nutrition-tc@columbia.edu
Web: www.tc.columbia.edu/academic/nutri/index.html
Since it was founded in 1909, the Nutrition Program has been a leader in integrating the findings of nutrition science, nutrition education, behavioral science and public health to develop strategies for promoting health through dietary change in individuals and communities.

Two Angry Moms
Box 783
Georgetown, CT 06829-0783
Email: producers@angrymoms.org
Web: www.angrymoms.org
Two Angry Moms is a documentary work-in-progress that asks the question: What happens when two "fed-up" moms try to change the school lunch program? Founded by Amy Kalafa, award-winning documentary filmmaker and Dr. Susan Rubin, founder and president of the Coalition for Better School Food. Armed with a movie camera, Amy and Susan have visited school cafeterias to see what's on the menu and what the kids are eating. The movie is scheduled to debut Spring 2007.

Union Square Hospitality Group (Sponsor)
24 Union Square East
New York, NY 10003
Phone: (212) 228-3585
Email: info@ushgnyc.com
Web: www.ushgnyc.com
Union Square Hospitality Group (USHG) includes some of New York City's most highly acclaimed restaurants. USHG is best known for its blend of excellent food and its unique style of warm hospitality. Actively involved in the community, USHG and its employees are committed to extending its enlightened hospitality beyond the walls of its restaurants. The company supports an array of hunger relief organizations including Share Our Strength and City Harvest; civic organizations such as NYC & Company, Union Square Partnership, and the Madison Square Park Conservancy; and other causes.

Wellness in the Schools
PO BOX 250832
New York, NY 10025
Email: info@wellnessintheschools.org
Web: www.wellnessintheschools.org
Wellness in the Schools (WITS) is a grass roots organization that promotes children's environmental health, nutrition and fitness within schools. WITS grew out of a common interest shared by a group of concerned New York City public school parents who united in the conviction that healthier bodies make healthier minds, and conversely, unhealthy school environments interfere with student health, school attendance and academic achievement. WITS programs tackle three major issues within schools: Children's Environmental Health, Nutrition, and Fitness.

Whole Foods Market (Sponsor)
Web: http://www.wholefoodsmarket.com
Leading retailer of whole and organic food. A mission driven company, Whole Foods is committed to sustainable agriculture.

World Hunger Year
505 8th Ave, Suite 2100
New York, NY 10018
Phone: (212) 629-8850
Fax: (212) 465-9274
Email: fslc@worldhungeryear.org, why@worldhungeryear.org
Web: www.worldhungeryear.org/fslc, www.worldhungeryear.org
WHY is a leading advocate for innovative, community-based solutions to hunger and poverty. WHY challenges society to confront these problems by advancing models that create self-reliance, economic justice, and equal access to nutritious and affordable food. WHY's Food Security Learning Center is an online hub of information exchange on initiatives to build and strengthen local food systems.