Schools and Food: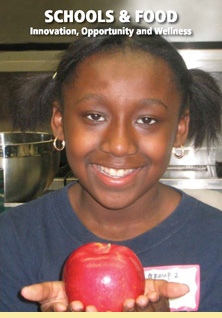 Innovation, Opportunity
and Wellness

April 1, 2006


Speaker Biographies
Hilary Baum,
Baum Forum
Hilary Baum produces educational seminars, conferences and special events focusing on critical issues in food and farming. She is president of Baum Forum/Public Market Partners, a not-forprofit, and coordinating director (acting) of the NYC Food Systems Network, an emerging collaboration of agencies and individuals engaged in furthering access to wholesome, regional food. A pioneer in the farmers' market movement, Hilary is active in community supported agriculture and co-author of Public Markets and Community Revitalization.

David Berkowitz, Executive Director
New York City Department Of Education Office of SchoolFood
In 2003, David joined the Department of Education to head the Department's SchoolFood, as Executive Director. The nation's largest school district, the New York City Department of Education comprises over 1,500 sites, more than 9,000 employees and serves over 860,000 meals a day. Breakfast, lunch, afternoon and weekend programs, special events and summer programs throughout the city all fall under David's leadership.

Chef Bobo (Robert Surles)
Calhoun School
Chef Bobo, a graduate of the French Culinary Institute, is Executive Chef for the Calhoun School on Manhattan's Upper West Side, where he is changing what kids eat for lunch. He is author of Chef Bobo's Good Food Cook Book, Simple Recipes for Happy, Healthy Kids (Meredith Books).

Jonah Braverman
East NY Farms Youth Program
Jonah Braverman is the Urban Agriculture Coordinator at East New York Farms! He supervised the youth internship program and provide technical assistance and training to market gardeners. The goal of East New York Farm's project is to organize youth and adults to address food issues in their community, by promoting local and regional sustainable agriculture and community based
economic development.

Patrick Brennan, Commissioner
NYS Dept. of Agriculture and Markets
Patrick H. Brennan was named New York State Acting Agriculture Commissioner by Governor George E. Pataki on January 12, 2006. Mr. Brennan is responsible for overseeing the Department of Agriculture and Markets, an agency that has both regulatory and promotional oversight of the food and agricultural industry in New York State. With a $161 million budget and 550 employees, the Department addresses agricultural economic development, environmental stewardship, and food safety issues to ensure agriculture remains a significant contributor to New York's economy and quality of life. Prior to being named Commissioner, Mr. Brennan served as the State Director of USDA Rural Development in New York State.

<Allison Carmen
Attorney at Law
Business/Career Coach, Parent Activist
Allison Carmen is an advocate for healthy eating in schools. Recently, she spearheaded a successful program to replace her daughter's traditional school
lunch menu with wholesome alternatives: organic beef, chicken, eggs, and milk, and all fresh fruits and vegetables. The program was so successful, she is helping other parents to change lunch programs at schools throughout New York City.

Megan Charlop, MPH, Director
Community Health Division
Montefiore School Health Program
Megan Charlop oversees the program's public health initiatives including the Healthy Kids project. Ms. Charlop has a strong track record in coalition building, setting policy agendas, developing implementation strategies and leading community wide initiatives. She spearheaded the development of the Montefiore Safe House for Lead Poisoning Prevention, the Lead Busters peer education program, the school component of the Hunts Point Asthma Initiative, and the Community Health Division, she now heads.

Jaimie Cloud
Cloud Institute of Sustainability Education
Jaimie P. Cloud is the founder and president of the Cloud Institute for Sustainability Education in New York City. The mission of The Cloud Institute is to ensure the viability of sustainable communities by leveraging changes in K-12 School Systems to prepare young people for the shift toward a sustainable future. Jaimie inspires young people to think about the world, their relationship to it, and their ability to influence it in an entirely new way.

Chef Jorge Collazo
New York City Department Of Education
Office of SchoolFood
Prior to joining SchoolFood two years ago, Executive Chef Collazo was a Chef Instructor at the New England Culinary Institute, in Montpelier, Vermont specializing in the history of food and culture. Previously, he held successive culinary management positions at corporations and organizations, including Sodexho Marriot Services, St. Johnsbury Academy in Vermont. Chef Collazoholds an Associate's Degree in Culinary Arts from the Culinary Institute of America and an Associate's Degree in Liberal Arts from Union Country College, in New Jersey. Chef Collazo received specialized training and certification from the National Restaurant Association, New England Culinary Institute and Culinary Institute of America, among others.

Chef Beth Collins
Ross School
Beth Collins is the Executive Chef of The Ross School in East Hampton, New York. The Ross School is a private middle and high school located on Eastern Long Island. The core concept of the food program is its commitment to regional, organic, seasonal and sustainable foods. Beth came to the Ross School in 2000 to work with Chef Ann Cooper. Beth assumed the Executive Chef responsibilities in 2004, and continues to refine a sustainable vision of daily dining in an institutional setting.

Chef Ann Cooper
Berkeley Unified School District
Ann Cooper, CEC, is the Director of Nutrition Services for the Berkeley Unified School District and is the former Executive Chef and Director of Wellness and Nutrition of The Ross School in East Hampton, New York. At the Ross School, Ann cultivated an innovative food service program serving over 1000 regional, organic, seasonal and sustainable meals each day. Chef Cooper, former Executive Chef of the Putney Inn in Vermont, is a graduate of The Culinary Institute of America and was one of the first fifty women to be certified as an
Executive Chef by the educational arm of the American Culinary Federation.

Antonia Demas, Ph.D.
Food Studies Institute
Antonia Demas has a Ph.D. in education, nutrition, and anthropology from Cornell University. Dr. Demas has worked 35 years developing food-based curriculums and teaching food-studies in a variety of educational settings with people of diverse ages, as well as ethnic and socio-economic backgrounds. She is founder of the Food Studies Institute.

Dr. Thelma Dye
Northside Center for Child Development
Dr. Dye is the Executive Director/CEO of Northside Center for Child Development. She is responsible for overseeing the operation and management of a 60 year old mental health and educational agency which serves over 1600 children and families annually. Dr. Dye is a licensed psychologist; she received her Ph.D. in Clinical Psychology from Yeshiva University and Bachelors from Cornell University. Dr. Dye has served on various child health advocacy committees; her most recent appointment being to the Community Services
Board Subcommittee on Mental Health.

Julia Erickson
Non-profit Management Consultant
Julia Erickson is a management consultant to non-profits, following a term as Executive Director of New York Restoration Project and 11 years as Executive Director of City Harvest, a household word for fighting hunger in NYC. Julia was the 2003 James Beard Foundation Humanitarian of the Year.

Chef Feliberto Estévez
Gracie Mansion
Mayor Bloomberg appointed Feliberto Estévez (Fili), a native of the Dominican Republic, as Executive Chef of Gracie Mansion in 2002. Fili has his own TV show on NYCTV, "What's Cooking at Gracie," which trails him as he travels through different NYC neighborhoods in search of authentic, fresh ingredients for the straightforward yet inventive cuisine served at Gracie Mansion. Fili also participates as a Chef-Leader in the food education programs Days of Taste® and The Dinner Party Project®.

Fern Gale Estrow, MS, RD, CDN
Nutrition Consultant, Educator and Speaker
Fern Gale Estrow is a nutrition consultant working with programs to improve health and quality of life through food access, nutrition education, media literacy and public policy. She serves in a policy capacity to the Society for Nutrition Education, the New York State Dietetic Association, New York City Nutrition Education Network and Community Food Security Coalition. She is the Policy Column Editor of The Journal of Hunger and Environmental Nutrition, a new Haworth publication due spring 2006.

Caroline Fitzroy
New York City Department of Health and Mental Hygiene
(Biography unavailable at press time)

Lynn Fredericks
Family Cook Productions
Author of Cooking Time Is Family Time, Lynn Fredericks is founder of Family Cook Productions, offering culinary/nutrition education programs to improve the dietary health of modern families via skills building and empowerment. Lynn has established childhood obesity prevention programs currently delivered in over 50 schools and community based organizations in the New York State and beyond, primarily through after school.

Amy Gifford
National Gardening Association
Amy Gifford has a Masters degree in Botany and several years of teaching experience, K-12 and beyond. As an education specialist with National Gardening Association she has developed curriculum and authored several publications designed to facilitate hands-on garden-based experiences for children. Currently, she is working on a national garden-based nutrition initiative.

Chef Sid Grabil
SchoolFood Plus Initiative
(Biography unavailable at press time)

Amie Hamlin
NY Coalition for Healthy School Lunches
Amie Hamlin is Executive Director of the New York Coalition for Healthy School Lunches, a statewide nonprofit that works to improve the health and well-being of New York's students by promoting healthy food in schools (not just lunches). She wrote and got passed a NYS legislative resolution and two NYS PTA resolutions regarding school foods.

Margethe Horlyck-Romanovsky, MPH
FoodChange
Margrethe Horlyck-Romanovsky is the Senior Program Officer for the CookShop® programs at FoodChange. As a public health nutritionist and chef, she has incorporated her extensive food, gardening, and nutrition knowledge into the programs to inspire excitement about and awareness of preventive nutrition, cooking, and local food systems. Ms. Horlyck-Romanovsky holds a BS in Nutrition and Home Economics and a Masters of Public Health Nutrition.

Julia V. Jordan
New York City College of Technology;
Spoons Across America®
Julia V. Jordan is an internationally recognized educator in experiential education. As a CUNY professor of hospitality management at New York City College of Technology and founder/president of Spoons Across America®, a not-for-profit organization that is the source for children's culinary education, she influences future generations by teaching and learning about traditions of the table and food: its source, quality, security, safety and sustainability.

William Jordan
NYS Dept of Agriculture and Markets
Bill Jordan is Special Assistant to the Commissioner of Agriculture at the NYS Dept. of Agriculture and Markets. Previously, he worked for six years in rural Chile with farm organizations, including successful efforts to sell family farm production to the Chilean school food services. Bill participates on the New York State Farm to School Coordinating Committee representing the NY Dept. of Agriculture and Markets. He administers New York's Crop Insurance Education Program. In addition, he coordinates trade policies and engages
in other issues as they impact the New York food industry.

Amy Kalafa
Two Angry Moms
Amy Kalafa is an award-winning producer/editor of documentary films in the field of health education. She is a Lecturer in the Yale University School of Medicine and Psychiatry, a holistic health counselor, Kripalu yoga teacher and organic farmer. A long-time health advocate, Amy is one of the original TWO ANGRY MOMS, fighting for the health of America's kids.
Marion Kalb
Community Food Security Coalition
(Biography unavailable at press time)

Karen Karp
Karp Resources
Karen Karp is the principal of Karp Resources, established in 1990 to grow food businesses. Karp Resources works internationally in both the forprofit and not-for-profit sectors on the development and implementation of new food concepts, focusing on retail and manufacturing, social service, and agriculture research and economic development.

Pamela Koch
Teachers College, Columbia University
Pamela Koch is the Project Coordinator for Linking Food and the Environment (LiFE) at Teachers College, Columbia University. LiFE is an upperelementary and middle school curriculum with four modules: Growing Food, Farm to Table & Beyond, Food & Health, and Choice, Control, & Change. Pam's dissertation was an evaluation of CookShop® and she has developed curriculum for the EarthFriends™ Program at Teachers College.

Anna Lappé
Small Planet Institute
Food and Society Policy Fellow
Anna Lappé is a national bestselling author and founding principal with Frances Moore Lappé of the Small Planet Institute. She is the co-author of Hope's Edge: The Next Diet for a Small Planet (Penguin 2002). Her latest book, Grub: Ideas for an Urban, Organic Kitchen (Penguin 2006) with Bryant Terry and a foreword by Eric Schlosser is out on April 1st. She is currently a Food and Society Policy Fellow, a national program of the WK Kellogg Foundation.

Robert Lewis, Chief Marketing Representative
NYS Dept. of Agriculture and Markets
Robert Lewis is responsible for planning and administering statewide programs that promote economic development of NYS agriculture and benefit farmers, consumers, and communities through the establishment of retail and wholesale farmer-to-consumer direct marketing facilities and arrangements. Before joining the Department of Agriculture and Markets in 1978, Bob co-founded the Greenmarket program in New York City. He is leading the Department's USDA funded NYC Wholesale Farmers Market Study and is involved with the Department's Farm-to-School Program.

Larry Levitas, Director
Dining Services, Columbia University
Larry Levitas came to Columbia in 2003 following 10 years at Au Bon Pain. He has spent a brief time at Cafe La Minita, a farm coop in Costa Rica to understand the local economy. He has worked with student groups to help initiate programs in Community Supported Agriculture, Food Sustainability, local produce purchasing, a student operated organic food coop and converted to biodegradable PLA containers to replace plastic, resin based products.
Toni Liquori, EdD, MPH
Teachers College Columbia University
Liquori & Associates, LLC
Toni Liquori, founder of Liquori & Associates LLC, is a public health nutritionist who has spent more than 25 years pioneering change in the NYC food system through the development of several initiatives featuring "cooking" as a touchstone of community engagement. More recently, she has been involved in establishing market relationships between regional farms and food purchasing institutions. Dr. Liquori teaches in the graduate Nutrition and Education Program at Teachers College Columbia University.

Ian Marvy
Added Value and Herban Solutions, Inc
Since opening its doors in 2001, Added Value cofounded by Ian Marvy and Michael Hurwitz, has provided intensive, year round training to 85 teenagers in the service of building a more sustainable, equitable and just society. Ian, the organization's current executive director, was a 2002 Echoing Green Fellow. In 2003 he was named to the inaugural class of Social Innovators by 18 to 35, and in 2004 he and Michael were honored as Petra Foundation Social Justice Fellows. Ian is currently a member of the Social Entrepreneurs Alliance, the American Community Gardeners Association, and the Community Food Security Coalition.

Herman McKie, MS, RD
New York City Department Of Education
Office of SchoolFood
Herman McKie, Nutrition Coordinator, started with the New York City Department of Education's Office of SchoolFood as a School Food Service Manager in 1992 and elevated quickly through the ranks. In April of last year he was promoted to the position of Nutrition Coordinator. He is responsible for developing nutritional standards and policy, assisting with the product reformulation, the SchoolFood Partnership Initiative and serves as a liaison for SchoolFood.

Richard Murphy, Executive Director
FoodChange
Richard Murphy is the Executive Director of Food- Change, which improves lives of low-income New Yorkers through nutrition, education and financial empowerment. Prior to joining FoodChange, Richard was Director of the Center for Youth Development and Policy Research and the Academy for Educational Development. Richard served as Commissioner of the New York City Department of Youth Services where he began the New York City Youthline, Community Youth Mapping, and the Beacon Schools. Richard was also the founding director of the Rheedlen Centers for Children and Families (now known as Harlem Children's Zone).

Glenda Neff
Development Services Associates
As the first Executive Director of NY Farms!, Glenda Neff helped establish and coordinate the NY Farms! Task Force of the NYS School Food Service Association. Since 2002, she continues to work on Farm-to-School projects with a focus on assisting distributors and school buyers to source New York farm products. Glenda is currently a consultant to Environmental Defense to advance farm and food policy reforms in the next Farm Bill.

Lyn Pentecost
Lower Eastside Girls Club of New York
Lynn Pentecost is a cultural anthropologist and community activist. As director of The Lower Eastside Girls Club, she has made it her mission to introduce healthy eating habits and nutrition education into the lives of the girls they serve. The Girls Club also introduces the concept of sustainable agriculture and the practice of regional consumption into the community by running a community farmers' market.

Janet Poppendieck
Hunter College, Department of Sociology
Jan Poppendieck is a Professor of Sociology at Hunter College, City University of New York. She is the author of Breadlines Knee Deep in Wheat: Food Assistance in the Great Depression (Rutgers: 1986) and Sweet Charity? Emergency Food and the End of Entitlement (Viking, 1998, Penguin, 1999). She is currently at work on a book on school meals, under contract to the University of California Press.
Susan Rubin
Westchester Coalition for Better School Food
Dr. Susan Rubin is a dentist, holistic health counselor, educator and public health activist. She is director of A Better Way Holistic Health and is founder and president of Westchester Coalition for Better School Food. Dr. Rubin is taking her work with school food to the national level. Her involvement with the Two Angry Moms film project has transformed the movie into a movement across the country.

Dr. Silvana Sari
Department for School and Educational Policies
City of Rome
Ms. Silvana Sari holds an MSc in Political Sciences and has subsequently specialized in the management of local institutions by attending courses in Rome and Milan (Italy). After serving as a General Municipal Secretary in various Italian cities between 1978 and 1994, she became an executive manager for the city of Rome. Between 1994 and 1999 she was appointed as a Director of the City's Transport Department; since 1999, she is the director of the Department for School and Educational Policies. Throughout her career, Silvana has published on administrative and educational issues.

Elizabeth Schaible
New York City College of Technology
AIWF/NY Days of Taste
Elizabeth Schaible, Assistant Professor, Hospitality Management Department, teaches culinary arts, purchasing, dining room management and marketing. Prior to joining the faculty a City Tech, Schaible held variety of culinary and hospitality management positions including executive chef of a corporate dinning facility, private chef to the editor of Rolling Stone Magazine as well as the owner of a retail food and catering operation. Currently, Schaible is serving as a Vice President on the Executive Board of the American Institute of Wine and Food's New York City Chapter.

Elizabeth Solomon, MS, RD
Food Change
Elizabeth Solomon is a Program Officer at Food-Change, a non-profit organization which aims to improve lives through nutrition, education and financial empowerment. As such, Elizabeth oversees EATWISE (Educated and Aware Teens Who Inspire Smart Eating), a teen food and nutrition advocacy and education program. Elizabeth also helps public schools establish school health teams to improve school nutrition and physical activity environments, practices, and policies.

Dr Roberta Sonnino
School of City and Regional Planning
Cardiff University
Roberta Sonnino holds a "laurea" degree (with honours) from the University of Rome (Italy) and a Ph.D. in Anthropology (with honours) from the University of Kansas, which she attended as a Fulbright Fellow from 1996 to 2003. Since 2003, she has been working as a researcher at Cardiff University (UK), where she joined a world-leading team of scholars studying agri-food and sustainable development. Over the past two years, Dr. Sonnino has done extensive research, presented papers and published on the re-localization of the food chain and on the development of sustainable systems of school meals and public food procurement in Italy and the UK (under the sponsorship of the UK Economic and Social Research Council).

Tom Strumolo
Greenmarket
Tom Strumolo is director of Greenmarket, a program of the Council on the Environment of New York City. He has been involved with Greenmarket since the mid 1980's.

Franca Tantillo
Berried Treasures Farm
(Biography unavailable at press time)

Cecily Upton, Slow Food In Schools Coordinator
Slow Food USA
Cecily Upton coordinates Slow Food USA's national Slow Food in Schools (SFIS) project. Slow Food in Schools projects are committed to providing children with a meaningful connection to food by planting seeds, harvesting crops, preparing meals, and rejoicing in conviviality. SFIS supports over 30 community projects and partners with many other non-profit organizations.

Josh Viertel, Director
Yale Sustainable Food Project
Josh Viertel came to Yale in 2002 to aid dining services in its transition to a local sustainable food program, to create a Yale Farm and to cultivate awareness and enjoyment of a meaningful food culture on campus. Prior to coming to Yale, Viertel started a small vegetable farm in Connecticut and taught at the Mountain School in Vershire, Vermont. He graduated from Harvard University in 2001. He is director of the Yale Sustainable Food Project.

Jennifer Wilkins, Ph.D., R.D. Kellogg Food and Society Policy Fellow,
Cornell University
Jennifer Wilkins is a Food and Society Policy Fellow in the Division of Nutritional Sciences at Cornell University where she directs the Cornell Farm to School Program and the Farmers' Market Nutrition Program. Jennifer conceptualized and developed the first regional food guide in the United States – the Northeast Regional Food Guide. She served as president of Agriculture, Food and Human Values Society from 2003-2004, and served on the board of Directors for the Society for Nutrition Education from 1994-97. She is the 2004 recipient of the Environmental Nutrition Award from the Hunger and Environmental Nutrition Dietetic Practice Group within the American Dietetic Association.

Dr. Margo G. Wootan, D.Sc.
Center for Science in the Public Interest
Margo Wootan is Director of Nutrition Policy at the Center for Science in the Public Interest (CSPI), one of the country's leading health advocacy organizations that specializes in nutrition and obesity. Dr. Wootan co-founded and coordinates the activities of the National Alliance for Nutrition and Activity (NANA) and is a member of the Steering Committee and the co-chair of the Policy Subcommittee for the National 5 A Day Partnership.

Candance Young
New York City Department of Health andMental Hygiene
Candace is Director of the Physical Activity and Nutrition Program Bureau in the NYC Department of Health and Mental Hygiene. Focusing on some of NYC's communities most affected by health disparities, she has directed nutrition, physical activity and obesity prevention programming in community, school, daycare and after-school settings. She has developed and directed health education publications for DOHMH and served as Project Coordinator for the Healthy Behaviors Program at Weill Cornell Medical College.