Schools and Food: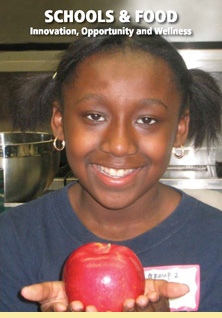 Innovation, Opportunity
and Wellness

April 1, 2006
Baum Forum
5454 Palisade Ave
Bronx NY 10471
Phone: (718) 884-5716
Fax: (718) 884-2724
Email: hilarybaum@baumforum.org
Web: www.baumforum.org
The Baum Forum facilitates an on-going dialogue on food and farming issues, focusing on the preservation of a healthy, diversified food system. Through a program of conferences and seminars, the Forum offers a variety of perspectives to a broad audience of the professional food and agriculture community, educators, and concerned citizens.
The Graduate School and University Center, The City University of New York Continuing Education & Public Programs
365 Fifth Avenue
New York, NY 10016-4309
Phone: (800) 554-4501
Email: continuinged@gc.cuny.edu
Web: http://web.gc.cuny.edu/cepp
The Continuing Education & Public Programs of The Graduate Center is a gathering place for people to meet, to think, to learn and to grow. The programs seek to deepen participants' critical thinking, help them gain new skills, open their minds and hearts, and encourage them to join in a partnership for learning and action. We strive to create partnerships as well as a common ground at The Graduate Center for many organizations and individuals from New York City and beyond.
NYS Department of Agriculture and Markets
Pride of New York, Farm to School
10B Airline Drive
Albany, NY 12235
Phone: (800) 554-4501
Email: info@agmkt.state.ny.us
Web: www.agmkt.state.ny.us
www.prideofny.com/farm_to_school.html
New York State Department of Agriculture and Markets' mission is to foster a competitive food and agriculture industry that benefits producers and consumers alike. New York's Farm to School committee meets quarterly and provides statewide leadership for farm to school initiatives, establishes and implements short- and long-term goals, identifies needs, and develops strategies for making sustainable farm-school connections. This committee is comprised of a variety of stakeholders including governmental agencies, school food service directors, universities, farmers, non-profits, health professionals, and others.

New York City Department of Education
Office of SchoolFood
44-36 Vernon Boulevard
Long Island City, NY 11101
Phone: (718) 707-4300
Web: www.opt-osfns.org/osfns/default.aspx
The mission of SchoolFood is to offer each student healthy, delicious and well presented meals in a welcoming environment.
The American Institute of Wine & Food, New York Chapter
Spoons Across America
216 Manor Road
Douglaston, NY 11363
Phone: (718) 229-6565
Fax: (718) 279-2324
Email: aiwf@beardallis.com
Web: www.aiwf.org
The AIWF is dedicated to promoting health and well-being through the enjoyment of good food and drink and the fellowshop that comes from dining together around the tabe. Days of Taste, a nationwide program produced in schools by local AIWF Chapters, introduces fourth and fifth graders to the basics of taste and includes a visit to a local farm or farmers market, a hands-on cooking class with a chef and a visit to their restaurant.
Council on the Environment of New York City
51 Chambers Street, Room 228
New York, NY 10007
Phone: (212) 788-7900
Fax: (212) 788-7913
Email: conyc@cenyc.org
Web: www.cenyc.org
The Council on the Environment of New York City (CENYC) is a privately funded citizens' organization in the Office of the Mayor. CENYC promotes environmental awareness and solut ons to environmental problems. The programs, Open Space Greening; Greenmarket & New Farmer Development Project; Environmental Education and others make positive and discernible differences in the lives and communities of New Yorkers.

Center for Environmental Education Online
Phone: (603) 357-3122
Web: www.ceeonline.org/
The Center for Environmental Education Online is a resource for educators and students, founded by Jayni and Chevy Chase. The Curriculum Review Library covers topics from the water cycle to sustainable economics to food and gardening. Healthy Food in Schools is a new section of the site.

Cloud Institute of Sustainability Education
307 Seventh Avenue, Suite #1201
New York, NY 10001
Phone: (212) 645-9930
Fax: (212) 645-9931
Email: Admin@sustainabilityed.org
Web: www.sustainabilityed.org
The mission of The Cloud Institute is to ensure the viability of sustainable communities by leveraging changes in K-12 school systems to prepare young people for the shift toward a sustainable future.
Cornell Cooperative Extension, NYC Program
16 East 34th Street 8th Floor
New York, NY 10016-4328
Phone: (212) 340-2900
Fax: (212) 340-2908
Email: cenyc@cornell.edu
Web: nyc.cce.cornell.edu/emerginginitiatives/
For more than 50 years, Cornell University Cooperative Extension - New York City has helped translate university research into programs and policies that improve the quality of life for New Yorkers of all ages and races. To do this, we collaborate and partner with community members and organizations, so that we can meet the evolving needs of communities, families, and individuals and engage them in experiential learning opportunities.

Family Cook Productions
330 East 43rd Street, 704
New York, NY 10017
Phone: (212) 867-3969
Fax: (212) 682-1620
Email: info@familycookproductions.com
Web: www.familycookproductions.com
FamilyCook Productions exists to bring families together around delicious, fresh food while positively impacting their health and well-being. We help parents take the lead to find creative ways of balancing opposing needs and time constraints that are a fact of modern family life by teaching them to cook meals together using recipes with fresh ingredients.

FoodChange
39 Broadway, 10th Floor
New York, NY 10006
Phone: (212) 894-8094
Fax: (212) 616-4990
Web: www.foodchange.org
The mission of FoodChange (formerly CFRC) is to improve lives through nutrition, education and financial empowerment. FoodChange is a primary partner in the SchoolFood Plus Iniative and home of the CookShop Program.
Hunter College (CUNY),
Department of Sociology
695 Park Avenue
New York, NY 10021
Phone: (212) 772-5585/87
Fax: (212) 772-5645
Web: http://maxweber.hunter.cuny.edu/socio/
(Mission Statement unavailable at press time)
Institute for Integrative Nutrition
3 East 28th Street, 12th Floor
New York, NY 10016
Phone: (212) 730-5433
Web: www.integrativenutrition.com
We want to help evolve the future of nutrition by encouraging, cultivating and promoting the eating of healthy foods and a balanced lifestyle. At our school we teach fundamental and practical knowledge of traditional and modern approaches to nutrition. Our students learn how to effectively share this important, life changing information with friends, family and the general public.
Just Food
208 East 51st Street, 4th Floor
New York, NY 10022
Phone: (212) 645-9880
Fax: (212) 645-9881
Email: info@justfood.org
Web: www.justfood.org
Just Food is a non-profit organization that works to develop a just and sustainable food system in the New York City region. We do this by fostering new marketing and food-growing opportunities that address the needs of regional, rural family farms, NYC community gardeners, and NYC communities.
Kingsborough Community College, Tourism & Hospitality Department 2001 Oriental Boulevard
Manhattan Beach
Brooklyn, NY 11235
Phone: (718) 368-5143
Fax: (718) 368-4880
Email: ffeinstein@kbcc.cuny.edu
Web: www.kingsborough.edu/academicDepartments/TAH/INDEX.HTM
Our Department prepares interested students for the multi-disciplined industry encompassed by Tourism and Hospitality. Many of our graduates now occupy professional positions in airlines, hotels, travel agencies, cruise lines, tour operator companies, restaurants, and airports, among others.
Liquori & Associates, LLC
305 East 63rd Street, 10A
New York, NY 10021
Phone: (212) 888-4245
Fax: (212) 888-4246
Email: tliquori@nyc.rr.com
Liquori & Associates, LLC is a consulting practice dedicated to transforming institutional foodservice operations to become models of food education - both in procurement and cooking practices. The practice focuses on assessment & strategic planning, change in food purchasing protocol, and workforce development. L&A assembles teams of professionals to work with foundations, schools and school systems, health programs, local, national and international public agencies, and communitybased organizations.

Lower Eastside Girls Club of New York
56 E. 1st Street
New York, NY 10003
Phone: (212) 982-1633
Email: gogirl@girlsclub.org
Web: www.girlsclub.org
The Lower Eastside Girls Club is dedicated to providing a place where girls 8-18 can grow, learn, have fun, and develop confidence in themselves and their ability to make a difference in the world. By delivering strong and innovative arts, athletic, cultural, life-skills and career oriented programming, we provide girls with the vision to plan - and the tools to build - their future.

National Gardening Association
1100 Dorset Street
South Burlington, VT 05403
Phone: (800) 538-7476
Web: www.kidsgardening.com
The National Gardening Association mission is to promote home, school, and community gardening as a means to renew and sustain the essential connections between people, plants, and the environment.
New York City College of Technology, CUNY
Department of Hospitality Management
300 Jay Street
Brooklyn, NY 11201
Phone: (718) 260-5500
Email: connect@citytech.cuny.edu
Web: www.citytech.cuny.edu
The mission of the Hospitality Department of New York City College of Technology is to provide students with a hospitality career education that integrates applied management practices and theory with liberal arts and sciences.

New York Coalition for Healthy School Lunches
P.O. Box 925
Bellport, NY 11713
Phone: 631-286-8720
Email: info@healthylunches.org
Web: www.healthylunches.org
The NY Coalition for Healthy School Lunches (NYCHSL) is a statewide nonprofit that works to improve the health and well-being of New York's students by advocating for healthy plant-based foods, comprehensive nutrition policy, and education to create food- and health-literate students.

New York Food Museum
P.O. Box 222
Prince Street Station
New York, NY 10012
Phone: 212-966-0191
Email: NYFoodMuse@aol.com
Web: www.nyfoodmuseum.org
The NY Food Museum's mission is simple: To get people to think about the food they eat. We want our audience to reconnect with the people who plant, grow, harvest, raise, catch and market their foods, as well as those who cook, serve and clean up after their meals. This connection will add to the public's understanding of the importance of nutrition and its relation to health and the body.

Northeast Organic Farming Association of NY
PO Box 880,
Cobleskill, NY 12043
Voice: 607-652-NOFA
Fax: 607-652-2290,
Email: office@nofany.org
Web: http://nofany.org
NOFA-NY is an organization of consumers, gardeners and farmers creating a sustainable regional food system which is ecologically sound and economically viable. Through demonstration and education, we promote land stewardship, organic food production, and local marketing.

NY Farms!
125 Williams Road
Candor, NY 13743
Phone: (607) 659-3710, (888) NYFarms
Email: nyfarms@clarityconnect.com
Web: www.nyfarms.info
NY Farms! is a broad based statewide coalition of organizations, individuals, businesses, agencies and institutions, committed to the future of New York's farms and families

Slow Food U.S.A.
20 Jay Street, Suite 313
Brooklyn, NY 11201
Phone: (718) 260-8000
Fax: (718) 260-8068
Email: info@slowfoodusa.org
Web: www.slowfoodusa.org
Slow Food USA seeks to catalyze a broad cultural shift away from the destructive effects of an industrial food system and fast life; toward the regenerative cultural, social and economic benefits of a sustainable food system, regional food traditions, the pleasures of the table, and a slower and more harmonious rhythm of life.

Small Planet Institute
25 Mt Auburn St., Suite 203
Cambridge, MA 02138
Phone: (617) 441-6300, ext. 115
Fax: (617) 441-6307
Email: info@smallplanetinstitute.org
Web: www.smallplanetinstitute.org
Frances Moore Lappé and Anna Lappé founded the Small Planet Institute to bring to light the emergence of "living democracy," a rewarding, inclusive, learned practice that creates communities that work for all. On every continent, people are bringing this democracy to life by discovering their power to act on their values. At the Institute we further this historic transition through books, articles, speeches, and other media.
Spoons Across America
213-37 39th Avenue, #216
Bayside, NY 11361
Phone: (718) 279-0331
Fax: (718) 279-2324
Email: info@SpoonsAcrossAmerica.org
Web: http://spoonsacrossamerica.org/
Spoons Across America,(R) the source for children's culinary education, is a not-for-profit organization dedicated to educating children, teachers, and families about the benefits of nutritious, healthy eating and the important traditions of supporting local farmers and sharing meals around the family table.

Teachers College, Columbia University
Linking Food and the Environment (LiFE)
525 West 120th Street, Box 137
New York, NY 10027
Phone: 212-678-3480
Email: LiFEatTC@columbia.edu
Web: www.tc.edu/life/detail.asp?Id=Welcome
LiFE Program's mission is to increase scientific conceptual understandings in life science; improve attitudes towards science; improve attitudes toward personal health and nature; and, promote behavior changes toward personal and ecological health.
Westchester Coalition for Better School Food
487 East Main Street #231
Mt. Kisco, NY 10549
Phone: (914) 864-1293
Email: betterschoolfood@mindspring.com
Web: www.betterschoolfood.com
Westchester Coalition for Better School Food is a
non-profit organization in Westchester County, New York, dedicated to supporting the growing numberof parents, health professionals, and educators who are trying to raise awareness in their communities and schools about the importance of good nutrition.