The Joe Baum Forum on the Future
The Baum Forum grew out of the Joe Baum Forum on the Future, established in 1995 by Joseph Baum, a visionary leader in the food service and hospitality industry, at the time of his induction into the Hall of Fame at the Culinary Institute of America in Hyde Park, New York.
Celebrated as one of the industry's foremost innovators, Mr. Baum played a key role in the development of the contemporary American restaurant from the 50's until his death in 1998. His work included the creation of unique dining experiences around the world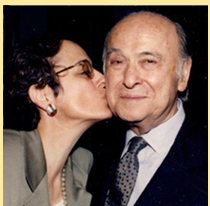 including such renowned New York establishments as The Four Seasons, Windows on the World, and the 1987 restoration of the Rainbow Room.
Baum conceptualized the Forum as a seminar series that would focus on issues related to the future of his industry. The first Forum conference, The Joe Baum Forum of the Future, was well into development when Mr. Baum died. Baum Forum director Hilary Baum continued with 1999 conference plans as a tribute to her father.
Since then, Ms. Baum had organized four major conferences and several symposia. Most recently, more than 400 people participated in School and Food: Innovation, Opportunity and Wellness, a historic conference that brought together advocates and practitioners from the realms of food service, education, public health, and agriculture. The program's co sponsor was The Graduate Center, CUNY, which provided a home for many Baum Forum programs including an innovative series on food system planning, Putting Food Systems on the Urban Map.
A Growing Concern, the 2002 Baum Forum's New York City weekend of educational and culinary activities, focused on a variety of food and farming issues. Important authors and visionaries made inspiring presentations in conference sessions; citizen campaigns, purchasing guidelines, and model projects were discussed in workshops; delectable local and sustainably produced foods were presented by the producers in the Metropolitan Marketplace coordinated by Slow Food NYC; and guided tastings, in-depth presentations and cooking demonstrations were provided by chefs and other experts at The French Culinary Institute, host.
Notable presenters have included best selling authors, Michael Pollan, Frances Moore Lappé and Anna Lappé, Marion Nestle, and Dr. Andrew Weil; Alice Waters of Chez Panisse, Berkeley, CA.; Gary Hirschberg of Stonyfield Farm; Michael Batterberry, founder of Food Arts Magazine; Bill Niman of Niman Ranch; and Mardi Mellon of the Union of Concerned Scientists.
Previous programs have generated considerable broadcast, print and internet interest, reaching more than 7 million readers and viewers. Highlights include mention in the December 1999 millennium issue of The New York Times Magazine.
"...one of the most striking changes between my millennium and yours will be in how drastically ingredients, and species, are altered. This notion was trumpeted to me recently when I attended the first Joe Baum Forum on the Future... Afterwards I realized that the foods I know and love may 'evolve' until their flavors become unrecognizable."
-- Molly O'Neill, New York Times Magazine
"(Baum Forum) set the stage for a thousand tomorrows with discussions of some of the most critical issues facing not only the food service sector or the New York restaurant scene but also the entire world over the next century."
-- Editorial, Nation's Restaurant News