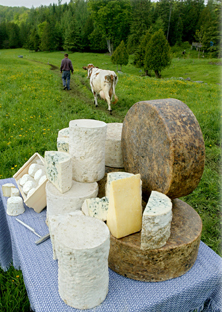 Northeast Farmstead
and Raw Milk Cheese:
Back to the Future
Saturday, 26 March 2005

Can artisanal production sustain the family farm? How are the New York City farmers' markets, retail and restaurant markets responding? What are the differences in quality and taste between conventional and artisanal production?
A guided tasting of regionally produced artisanal cheeses featured a variety of Northeastern producers.
TRACY FRISCH, organizer, New York State
Farmstead and Artisan Cheese Makers Guild;
DAPHNE ZEPOS, director of affinage, Artisanal Premium Cheese;
LIZ THORPE, director of wholesale, Murray's Cheese;
ERIKA LESSER, Executive Director, Slow Food USA; producers from New York State Farmstead and Artisan Cheese Makers Guild and from Slow Food's American Raw Milk Farmstead Cheese Consortium; and others.

Materials
> Download Program (PDF)
Reference Links
> Slow Food USA
> Murray's Cheese
> Artisanal Cheese Center
> Cato Corner Farm
> NY State Cheese Makers Guild
> Vermont Cheese Council
> American Cheese Society
> Hawthorne Valley Farm
> Sprout Creek Farm
> 3-Corner Field Farm
> Thistle Hill Farm
> Jasper Hill Farm
> Champlain Valley Creamery
> Cobb Hill Cheese

> Return to Top

> Return to Programs Archives Index