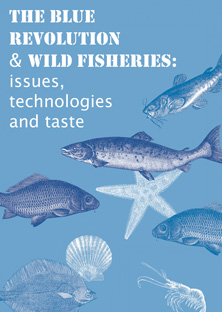 The Blue Revolution and
Wild Fisheries:
Issues, Technologies and Taste
October 30, 2004

A full day exploration through discussion, film and tastings of the latest developments and controversies in aquaculture, wild fisheries, and the local fish supply. This program was designed to guide restaurateurs and other food professionals, health advocates, and home cooks through this complex subject. How can we balance the known health benefits and taste delights of eating fish with rapidly increasing ecological concerns raised by overfishing, pollutants, and industrial aquaculture?
A tasting was provided by producers and purveyors of sustainably harvested fish and seafood.
CARL SAFINA, marine ecologist, president, Blue Ocean Institute, author of Song for the Blue Ocean and co-author Seafood Lover's Almanac;
PETER HOFFMAN, Chef Owner, Savoy and Chefs Collaborative national chair;
TIM FITZGERALD, Environmental Defense;
HENRY LOVEJOY, Owner, Ecofish;
JOHN REID, owner, Bioshelters and Waterfield Farms International;
WES EASON, owner, Sunburst Trout Company;
GREG HIGGINS, chef owner, Higgins Restaurant;
ED RHODES, East Coast Shellfish Growers Association;
PAUL McRANDLE, The Green Guide.

Materials
> Download Program (PDF)
Reference Links
> The Green Guide Institute
> Seafood Choices Alliance
> Chefs Collaborative
> Slow Food USA
> East Coast Shellfish Growers
> Habitat Media
> Oceans Alive
> Waterfield Farms
> Ecofish
> Sunburst Trout